Doel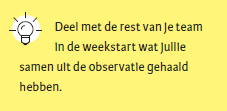 • Evalueren van de (uitvoering van de) SOP
• Verbeteren/door ontwikkelen van de 'standaard' (SOP)
• Delen van kennis en kunde
In het kort
De manager/teamleider observeert de medewerker bij het uitvoeren van een Standard Operating Procedure (SOP) om te toetsen of de SOP op de juiste manier wordt uitgevoerd en samen te bepalen of er verbeteringen van de SOP mogelijk zijn.
Toelichting
Een observatie doe je door in stilte te observeren hoe iemand een SOP uitvoert. Dit is input voor: coaching van de medewerker, ontwikkelen van kennis & kunde, kennisdelen en doorontwikkeling van de SOP. Dit alles met het hogere doel om de uitvoering van de processen (SOP's) te verbeteren.
Meer weten? Klik dan hier en schrijf je in voor de Green Belt training.
Aanpak
• Plan een vast tijdslot in de week om een observatie bij medewerkers uit te voeren
• Bespreek in de weekstart bij wie, en voor welke SOP, je komende week een observatie kunt uitvoeren
• Leg aan de medewerker uit wat je gaat doen en benadruk dat het niet bedoeld is om de medewerker te beoordelen, maar om de 'standaard' (SOP) te verbeteren
• Observeer in stilte de uitvoering van de SOP door de medewerker
• Noteer tijdens de observatie jouw bevindingen, verbazingen en verbetersuggesties
• Bespreek de uitvoering van de SOP na, samen met de betreffende medewerker en definieer samen verbeterideeën om te komen tot de 'beste' manier van werken
• Informeer de SOP-eigenaar over de door te voeren verbeteringen in de SOP
Synoniem en/of alternatief
In het Engels: een sit-in en silent observing.
Duur
Afhankelijk van de afhandeltijd van de betreffende SOP die getest wordt. In algemeen wordt hier 1 uur voor gepland.
Voorbeeld
Er zijn vele voorbeelden denkbaar, want in principe kan een observatie bij alles gedaan worden zolang het een Standard Operating Procedure betreft: het inboeken van facturen, inpakken van materialen, faciliteren van een workshop met een standaard format, maken van een jaarverslag, infuus aanleggen bij een patiënt et cetera.