Procesanalyse

FMEA
Doel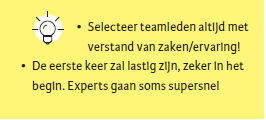 • De risico's van mogelijke risico's of faalwijzen inschatten en prioriteren
• Mogelijke problemen of zwakke punten van een ontwerp ontdekken
• Analyseer om te verbeteren met acties, zoals de inzet van Poka Yoke's
In het kort
FMEA (Failure Modes and Effects Analysis) richt zich op vier aspecten van mogelijk falen: wat zou er mis kunnen gaan? Hoe ernstig is dat? Hoe vaak kan het misgaan? En wat is de kans op tijdige ontdekking? De methode is oorspronkelijk in Amerika ontwikkeld door de NASA om ontwerpen te verbeteren.
Toelichting
Je kunt een FMEA inzetten voor het prioriteren van mogelijke en huidige faalwijzen in een reeds bestaand proces. Dat heet een proces-FMEA. Indien het om een product gaat, praten we over een product-FMEA. Je maakt een FMEA met een groep ervaren deskundigen (in een workshopwerkvorm). Voordat je een FMEA maakt, is het proces of product in kwestie bekend en (in concept) opgesteld.
Aanpak
• Geef een beschrijving van de functies van een product of processtappen. Brainstorm met de groep over wat er mogelijk fout kan gaan per onderdeel of stap
• Beschrijf wat de gevolgen van die fout zijn voor de output van het proces. Maak een inschatting van de ernst van de fout, op een schaal van 1 (laag) tot 10 (hoog)
• Maak een lijst van mogelijke oorzaken van de fout. Schat de waarschijnlijkheid (frequentie) dat dit voorkomt in, op een schaal van 1 tot 10
• Maak een lijst van ontdekkingsmogelijkheden (detecteerbaarheden) van de fout. Schat de kans op tijdige ontdekking in, op een schaal van 1 (direct) tot 10 (niet/te laat)
• Bereken het risicoprioriteitsnummer (Risk Priority Number) van het mogelijk falen: RPN (Risico) = E (Ernst) x F (Frequentie) x O (Ontdekkingskans).
NB. Hoe hoger het berekende risico (RPN) is, hoe hoger de prioriteit om te verbeteren. Bepaal van te voren wat je acceptabel vindt. De actiegrens kan zijn: RPN >125, of de ernst E ≥8 is, of de top 5 of top 10 hoogste RPN's (of E*F waarden)
De bepaling van een RPN, kun je doen met onderstaande dimensies en scores.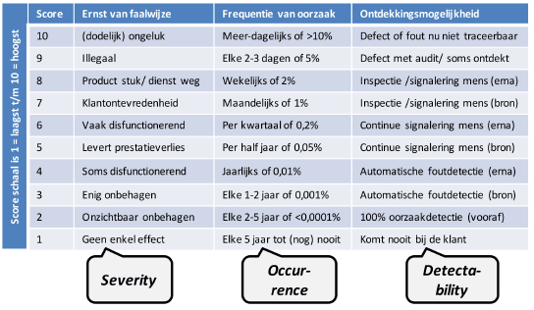 Synoniem en/of alternatief
Er zijn vele soorten FMEA's: naast de hier ingezette Process FMEA (PFMEA) kom je ook de Machinery FMEA tegen. Deze MFMEA focust op wat mis kan gaan bij aan te leveren technologie en ook in het betreffende proces. De MFMEA wordt veelal door leveranciers opgeleverd. De Design FMEA (DFMEA) wordt toegepast om het ontwerp van een product of dienst te onderzoeken. Binnen DMAIC gebruiken we een DFMEA in de verbeterfase (Improve) of bij nieuwe ontwerpen (zoals in een DMADV). Er bestaan daarnaast nog meer namen en alternatieven. Binnen de automobielindustrie is de AIAG-standaard in zwang, waar Occurence expliciet aan de Ppk van een proces is gekoppeld. In de voedingsbranche is een alternatief genaamd de HACCP gangbaar. Binnen projectmanagement zijn er eenvoudiger risico-analysemethoden, met twee dimensies (ernst en frequentie) in plaats van drie. Ook wordt als Root Cause Analysis (RCA)-methode de visgraatmethode ingezet.
Duur
Een FMEA maken duurt minimaal vier uur (superfocus op één processtap bijvoorbeeld), maar in veel organisaties zijn ze vaak meerdere dagen bezig om een FMEA op te stellen.
Voorbeeld
In de tabel hierna staat een deel van een FMEA ingevuld, losgelaten op een nationaal beroemde uitgaansgelegenheid in Groningen. Het deelproces waarop gericht is, is het koffie-maken.
Vanuit faalwijzen (vergissingen, fouten) gedacht, welke keuze maak je?


Deze analyse komt vaak in Engelstalige formats voor. Derhalve bewust ook zo hier ingezet.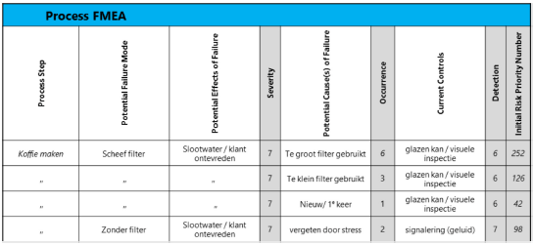 Een voorbeeld van een Design FMEA is te vinden in het onderwerp innoveren (hoofdstuk Introductie Verbeteren).