Wat is Kaizen?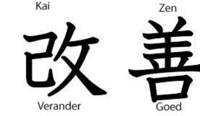 Verbeteren in kleine stapjes, dat is een van dé kenmerken van Lean. Kaizen events zijn van die kleine stapjes. Kaizen werd na de Tweede Wereldoorlog ontwikkeld door experts als Edwards Deming en vele anderen. Letterlijk betekent Kaizen 'verandering ten goede'. (Kai betekent 'verander', Zen 'goed').
3G-principe en besluitvorming
Belangrijk bij een goede besluitvorming is de werkelijkheid. Binnen Kaizen of Lean hanteer je bij besluitvorming het '3G-principe' ofwel het '3 Gen-principe': zie de werkvloer (Genba), je product of dienst (Genbutsu) en verkrijg feiten (Genjitsu). Dit helpt om zo dicht mogelijk bij de echte situatie te komen (te begrijpen) en om een goed besluit te nemen. Meer te weten komen over het 3G-principe en een Kaizen event? Klik dan hier en schrijf je in voor de Green Belt training.
Wat is een Kaizen event?
Een Kaizen event richt zich op een plaatselijk probleem. Het is een kortcyclische verbetering, waarbij de hele lijn betrokken is, van hoog tot laag. Soms is het zelfs handig om er externe belanghebbenden bij te betrekken: die hebben vaak een frisse blik die niet wordt vertroebeld door oneigenlijke argumenten als 'dat doen wij nu eenmaal altijd zo'.
Synoniem en/of alternatief
Een Kaizen event heet ook wel Kaizen Blitz of Small Group Activity (SGA). Er bestaan alternatieven, zoals een tweedaagse workshop tot en met enkel een actieplan.
Duur
Een Kaizen event duurt van origine niet langer dan een week. Soms is minder tijd nodig.
Voorbeeld
Aanpakken die geschikt zijn voor Kaizen events zijn onder andere: 5S, SMED, Theory of Constraints, DMAIC in één week, PDCA. 5S, SMED en de Theory of Constraints zijn toegelicht in het hoofdstuk Improve (DMAIC).