Doel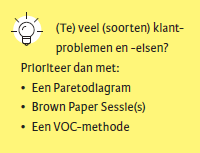 • Begrijpen wat kritieke eisen zijn voor je klant om een (zeer) goede klanttevredenheid te krijgen of te behouden
In het kort
Een VOC-analyse is het vertalen van de stem van je klanten (feedback) naar concrete eisen waar de organisatie aan moet zien te voldoen. Een VOC-analyse helpt om te weten hoe je een (zeer) goede klanttevredenheid kunt krijgen (en/of behouden).
Toelichting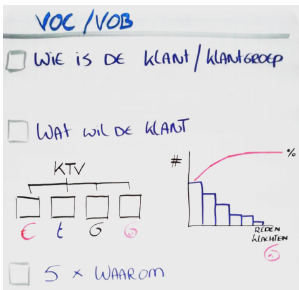 Bij Lean Six Sigma staat de klant centraal. De feedback van je klant vertalen naar meetbare,
kritieke klanteisen is een eerste vereiste voor een succesvol verbeterproject. Kritieke klanteisen helpen om effectief (klantgericht) te zijn en eenduidig te communiceren. Klanten weten vaak beter wat ze niet willen dan wat ze wel willen. Daarom doorvragen: 'waarom?', soms tot wel vijf keer. Vandaar de term '5 * Waarom?'.
Klanteisen en klantentevredenheid (KTV) kun je herleiden tot drie dimensies: kwaliteit, tijd en kosten. Deze dimensies kun je vaker specifiek en meetbaar krijgen dan je denkt. Denk bij kwaliteit bijvoorbeeld aan meetbare defecten of conformiteiten. Een probleem wordt ook omschreven in holistische begrippen als 'cultuur' of 'beleving'. Een begrip als 'beleving' klinkt natuurlijk prachtig, maar we bedoelen er impliciet ook mee dat we weinig specifiek inzicht hebben in wat echt belangrijk is. De kunst van DMAIC-verbeterprojecten is om dat uiteindelijk wel specifiek te krijgen, en aantoonbaar (meetbaar) te verbeteren.
Aanpak
Nodig de klant uit om zijn mening te geven over je organisatie en zijn specifieke diensten en/of producten. Onderzoeksmethoden om klantbehoeften te inventariseren zijn er legio.
Gangbare aanpak binnen Lean Six Sigma:
• Verzamel klantenfeedback/klantbehoeften met behulp van onder andere:
·· Klantinterviews, individueel en/of in focusgroepen
·· Observationeel onderzoek (binnen Lean praten we over Genchi Genbutsi of Go Gemba)
·· Persona-onderzoek of PAIN-Storming (vooral gangbaar bij Leanoveringsprocessen)
·· Recente (uitgebreide) klanttevredenheidonderzoeken (bijvoorbeeld met behulp van het Kanomodel)
·· Registraties van klachten, storingen en/of incidenten
·· Marktonderzoek (op productniveau), benchmarkcijfers of concurrentie-onderzoek
• Groepeer deze informatie in relevante categorieën
• Prioriteer ze voor een verdere afbakening van je 'probleemgebied', bijvoorbeeld met een Paretodiagram of Kanoanalyse. Uiteraard binnen de strategische doelen
• Vertaal klantbehoeften (uiteindelijk) in een beperkt aantal meetbare projectdoelen
Je kunt dit niet onvoorbereid doen. Denk bijvoorbeeld aan hoe je workshopsessies uitvoert en hoe je doorvraagt. Soms heb je ook veel plezier van apparatuur of software (data-analyse tools, videocamera's met randapparatuur, et cetera).
Synoniem en/of alternatief
In Engelstalige literatuur kom je bij markt- en/of klantonderzoek begrippen als: Customer Orientation en Customer Needs Mapping tegen.
Vaak ontstaat een verbetertraject ook alleen op basis van de interne klant, een directielid bijvoorbeeld. Dan praten we over de Voice of the Business (VOB). Ook de Voice of the Employees (VOE) helpt natuurlijk. Zowel de VOB als VOE kunnen gedreven zijn door de VOC, maar dat hoeft niet. Ook komt de term VOR (Voice of the Regulator) voor als vertrekpunt.
Duur
Indien relevante klantinformatie ontbreekt, kan dit gauw een maand of langer duren. Maar als je het goed organiseert, kun je relevante eisen vaak in een week of soms nog sneller klaar hebben. Voorbeeld: de dag na een evenement een afgeronde klantenquête.
Overzicht methoden klantbehoefte bepaling
Voorbeeld
Onderstaande tabel geeft een overzicht weer van onderzoeksmethoden om klantbehoeften inzichtelijk te maken (VOC-methoden). Nuttige methoden om te weten waarmee je je klanttevredenheid verhoogt (of hoog houdt).
Overzichtstabel van VOC-methoden