Waarom heet het Six Sigma?
Variatie is een belangrijk onderdeel van Six Sigma. De term 'Sigma' (σ) is in de statistiek het symbool voor de standaardafwijking, een maat voor spreiding. Six Sigma schrijf je ook als '6σ', wat letterlijk staat voor 3,4 defecten per miljoen mogelijkheden. Positief geformuleerd staat '6σ' voor een procesprestatie dat in 99,9997 % van de gevallen goed gaat. Volgens de klant. De term komt van Bill Smith (Motorola).

Onderstaande tabel geeft aan op welk Sigma-niveau je proces staat.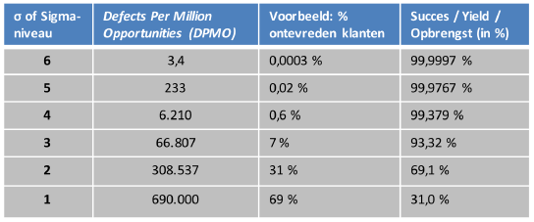 Six Sigma is dus genoemd naar een ideaal: een proces met zo'n kleine variatie dat er per miljoen producten of diensten maar 3,4 fouten zijn. In de praktijk kan deze ideale situatie moeilijk haalbaar lijken. Een 5 Sigma-niveau kan al heel bijzonder of knap zijn.
Meer te weten komen over de First Pass Yield? Klik dan hier en schrijf je in voor de Green Belt training.
Procesdenken
Six Sigma streeft naar een zo groot mogelijke kwaliteit van het gehele proces. Stel: je proces bestaat uit vier stappen en je wilt dat het percentage dat in het gehele proces in één keer goed gaat, 95% is. Dan is het niet genoeg om voor elke processtap afzonderlijk te streven naar een yield (opbrengst) van 95%, want fouten in de ene processtap werken door in het totale proces. Je bent na stap 2 al naar 90% (95% van 95%) gezakt. Als je bij alle vier de stappen de yield op 95% zit, is je gehele procesopbrengst nog maar 81% (immers: 0,95*0,95*0,95*0,95=0,81). Zo hard gaat dat. Hoeveel stappen zitten er in jouw werkprocessen? Vast meer dan vier.
DMAIC
Een Six Sigma-verbetertraject is een aanpak, die uit vijf fasen bestaat: Define, Measure, Analyse, Improve, Control, afgekort tot DMAIC. In het Nederlands zouden we zeggen: Definiëren, Meten, Analyseren, Implementeren (Invoeren) en Continueren. De DMAIC-aanpak wordt in detail in de hoofdstukken 1 en 5 tot en met 9 behandeld.