Workshop


Voor, tijdens en na de workshop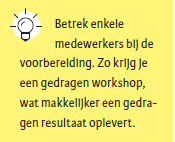 Hoe bereik je een succesvolle workshop?
Wie weleens een slecht voorbereide workshop heeft meegemaakt, begrijpt wat we bedoelen. Want je begint gewoon goed aan een workshop als alles juist wél piekfijn voor elkaar is. Dat geeft een goed en comfortabel gevoel, en dat straalt uit naar de deelnemers. Deze raken vervolgens meer gemotiveerd om bij te dragen aan een succesvolle workshop.
Belangrijke startvoorwaarden voor een workshop
• De facilitator weet waar het over gaat en wat de mensen in de organisatie bezighoudt
• Vooraf is het doel en de aanpak van de bijeenkomst helder
• De juiste deelnemers doen mee
• De workshop vormt een logische stap in het geheel van het project
• De fysieke ruimte past bij de bijeenkomst
• Deelnemers voelen zich gehoord, gewaardeerd door bij te dragen in de workshop
De vraag is: hoe kun je dit bereiken? Het antwoord is: de juiste voorbereiding. In de meeste gevallen besteed je minstens evenveel tijd aan de voorbereiding als de duur van de bijeenkomst; vaak zelfs meer. Je dient als facilitator namelijk veel te weten, mensen te kennen en te organiseren. En na de uitvoering van de workshop is het ook van belang dat je vooraf na hebt gedacht over het vervolg van de workshop.
Het ontwerpteam als succesfactor
De beste workshops zijn meestal voorbereid door een klein team van betrokkenen: het ontwerpteam. Dit team bestaat uit de opdrachtgever, de facilitator, een inhoudelijk expert en twee deelnemers (de laatste twee rollen eventueel gecombineerd). De leiding berust bij de facilitator. Met deze mensen heb je alle perspectieven aan boord voor een goede workshop: de opdrachtgever geeft de opdracht en bewaakt of de resultaten passen in het grotere geheel in de organisatie (de strategie, het project, programma of verandertraject). De inhoudelijk expert zorgt er mede voor dat de juiste inhoud op tafel komt. De twee deelnemers denken mee vanuit hun perspectief: wat zijn de do's en don'ts in de groep, met welke gevoelens moeten we rekening houden? De facilitator zorgt ervoor dat de opdracht, de inhoud van de workshop en dat wat past bij de deelnemers samenkomt in het ontwerp van de workshop. Dit ontwerp noemen we het draaiboek.